BRAUN NORTHWEST, INC.


Builder of North Star Emergency Response Vehicles
Your profession demands a well-engineered, rugged emergency vehicle that can withstand the most extreme day-to-day use. Braun Northwest was founded 30 years ago to design and manufacture just that.
Each of our emergency vehicles is custom-built to your exact specifications when you order it. Choose from our complete line, including but not limited to: Types I, II, and III Ambulances, Fire Rescue, Mobile Intensive Care, Hazmat, Command, SWAT, Search and Rescue, Bomb/EOD, Crime Scene, or Prisoner Transport vehicles.
Contact us to learn more about adding a North Star purpose-built vehicle to your fleet.
"We have purchased a total of five ambulances from Braun Northwest. They have all exceeded our expectations. The courtesy and professionalism of the staff and the quality of the final product has always been superb. We are in the process of building our sixth ambulance with Braun Northwest and look forward to future projects."
I just wanted to thank you all for a good inspection trip. Even though we had a little hiccup with the light bar brackets, all of you and your staff did a great job in making it work before we left. We always appreciate the help and professionalism of your team with great suggestions and eagerness to resolve issues. It's a pleasure to work with a team that listens and cares about the end result!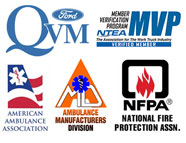 High quality vehicles, low cost of ownership
Count on the Braun Northwest team for the highest quality vehicle and unmatched long term customer service – for superior value today and for years to come.
All vehicles are made right here in our Chehalis, Washington, factory. Not only can you buy directly from Braun Northwest with no need for dealers. You can also rely on us for repairs, painting, electrical work, and other maintenance. To ensure low cost of ownership, we can remount your module on a new chassis, saving you about 30 percent compared to purchasing a new vehicle.
We are here to serve you as you make a purchasing decision, design and build your vehicle, and for years to come after delivery.
Click here to learn more.